I get to be home and be with my husband for two weeks. I have to go back on the 18th, but even being home a little while is nice.

I did finish my Olympic Knitting.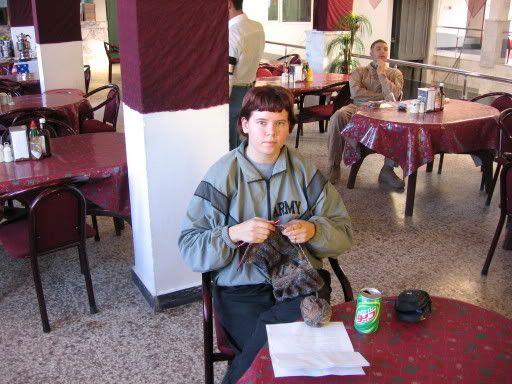 Me knitting at Habur Gate up near Turkey.




Starting the second Kozy. I needed one for a small pot so the second one was done in the smaller size.




Small one half done.




And finished.




Here they are both done. I'm only claiming a Silver Knitting Olympic medal, because I changed the plan and the large one still needs a button. (Didn't have any buttons in Iraq with me, but I plan on bringing some with when I go back)



Also, the dress I was having made is done. The dress construction is kinda unusual, I don't think that tailor has ever made a dress before. He couldn't get it to hang properly over the crinline I had ordered, so he made a slip like thing out of very stiff material. I'm trying to make a better one while I'm home. I don't like the slip thing much.
Here's me modeling the dress after I got it.